Course details
<Genki Morimori Yakiniku All-you-can-eat Course ♪> Domestic Japanese beef included! More than 20 types! All-you-can-eat! 90 minutes 2650 yen (tax not included)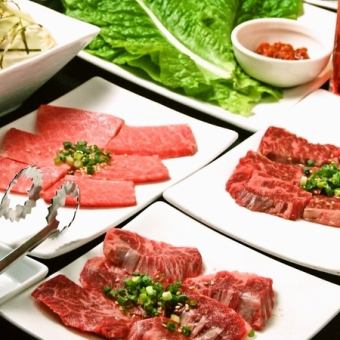 By using a coupon¥ 2650
(Tax excluded)
Available days for reservation

Monday - Sunday - Public holidays - Holidays
The seating time is 90 minutes, and the last order is 30 minutes ago!
Course menu
始 め We will bring this set at the beginning.↓
Japanese Wagyu beef ribs, pork ribs, small ribs rib loin, chicken thighs
After eating meat, per order from the following
1 to 3 persons → 4 persons, 4 persons or more → 8 persons
I will bring your desired meat.
Japanese Wagyu beef rib ・ extra rib ・ rib loin
Beef loin, pork ribs, chicken thighs, chicken skin, tontro
Tori konko, Seseri, Tonchan, Bovine hormone
Cattle lever wiener
Mini-baked vegetables Sheng ※ You can order single items separately
(Cabbage, onion, pumpkin, shishito)
Seaweed soup, rice (large, middle, small)
※ Last order will be one hour after the start.
※ No take-away, leftovers may be charged separately.
※ Various discount services can not be used together
2019/08/01 update